Get a Free Rental Analysis
We Provide Hampton Cove Property Management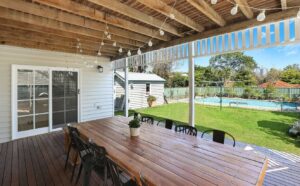 Hampton Cove is a large master-planned community that stretches over 2,800 acres at the heart of Huntsville, Alabama. Development began on Hampton Cove in 1992, and today the area includes over 20 unique neighborhoods.
Living in Hampton Cove comes with a number of incredible benefits only residents enjoy. Attractions include the Hampton House, a stunning community center with an Olympic pool and tennis and volleyball courts. The area is also home to a large golf course and multiple community lakes, all of which are fully stocked for recreational fishing. Furthermore, since Hampton Cove sits directly within the city of Huntsville, all of the amenities of the greater metro area are within arm's reach.
Investing in Hampton Cove Rentals
With all of its attractions, it comes as little surprise that Hampton Cove has continued to grow rapidly in the 21st century. This mirrors a greater trend across Huntsville. Investors looking to grow their net worth are often attracted to Hampton Cove, since the area essentially sells itself. Even still, turning a profit with Hampton Cove rentals isn't always a slam dunk. To get the most out of your investment, you'll likely need to work with a specialist in rental management.
By entrusting your home to a Hampton Cove property management team, you can say goodbye to the stress of tenant placement, rent collection, and maintenance coordination, once and for all.
Working with Newton Property Management in Hampton Cove, Alabama
At Newton Property Management, we provide full service solutions for homeowners across Northern Alabama. We have successfully helped countless local property owners to get more out of their investments. Our Hampton Cove property management packages feature flexible solutions based on your unique goals. Learn more today about how we can help you reach your performance benchmarks. Schedule a free consultation to get started.
We handle all of your home's day-to-day needs
Discover why we offer the right for your rental home
1.

We Keep You Connected to Your Home
Working with us, you'll never need to worry about the health of your rental home again. We work to keep you in the loop and we're always easy to reach via phone and email. When you have questions or concerns, it's easy to get in touch.
2.

Our Team Knows the Market
Every rental market has its own unique challenges and ups and downs. We have worked extensively across Northern Alabama and we know how to keep your home profitable, all while minimizing  problems and maintaining the longterm health of your investment.
3.

Renters Love Working with Us, Too
Focusing on tenant satisfaction is an important part of our property management approach. By keeping our renters happy, we maintain low turnover rates and help reduce the costs associated with vacancies. It's a win-win for everyone.
4.

We Provide Instant Account Access
When you want to check in on your home, it's easy to access your online account. We also provide convenient options for tenants looking to pay rent or request repairs online. These tools keep us efficient and help us resolve problems promptly.
"The best property management company in North Alabama!"
CHASE TUCKER
Best landlords I have ever had! [They] make sure we are always taken care of and...in the pouring rain! You can't beat their dedication or professionalism!!
LIZ PERNA
Even more reasons to love us
Northern Alabama's Property Managment Pros
We know the local rental market.
If you own rental properties in Athens, Decatur, Huntsville, or one of the many surrounding communities, it's important to find a property management team that can help you hit your financial benchmarks. With the right support on your side, you'll never worry about collecting rent, responding to maintenance requests, or keeping your home in good shape again. 
Learn more about our property management solutions by scheduling a free rental analysis today.
Speak with the Newton Team
Learn more about our flexible management
options. Call us now: (256) 233-2800